TIPS
WINDOWS 7 TIPS
HOW TO ADJUST THE ICON SPACING ON THE DESKTOP



Right click the desktop and click Personalize.
Click Windows Color, (bottom centre of the window).
Click Custom at the bottom of the window.
Click Advanced apperance settings and where it shows Desktop in the item selection box, click the down arrow and choose Icon Spacing (Horizontal or Vertical).
Once selected, adjust the spacing by entering in a number where it say's Size, then click Ok




HOW TO UNLOCK APPLICATIONS USING THE RESOURCE MONITOR

In previous versions of Windows there was no way of repairing a locked-up application unless using third party software. But now in Windows 7 they have added this functionality which should assist you without losing any data. To access it either go to Start and type in the search box resmon or find it by going to Start-->All Programs-->Accessories-->System -->Resource Monitor. Once the Resource Monitor window is open, find the stalled process which should be highlighted in red under the CPU pane, right-click it and select Analyze Wait Chain. The next window that opens should display a tree like look of the program and the processes that it's waiting for. Now, save any work in other programs you have open and go back to the Resource Monitor window and click the bottom box that displays the background process. Click the End Process button and the once stalled application should be responsive now. I cannot guaruntee that this will work all the time, but I would recommend you use this method first before trying to kill the offending program.WARNING: Ending a Windows component or process can crash your PC.

ALLOW NETWORK FILE IMPORT IN WINDOWS LIVE MOVIE MAKER

By default Windows Live Movie Maker won't allow the import of files over a network. Here is a quick registry tip that will enable this function in the propgram:

Run REGEDIT, browse to HKEY_CURRENT_USER\Software\Microsoft\Windows Live\Movie Maker, add a DWORD (by right clicking your mouse in the right window) and typing in a value called AllowNetworkFiles. Type in 1 in the Value Data field and click OK to add network support. Close REGEDIT and open WLM.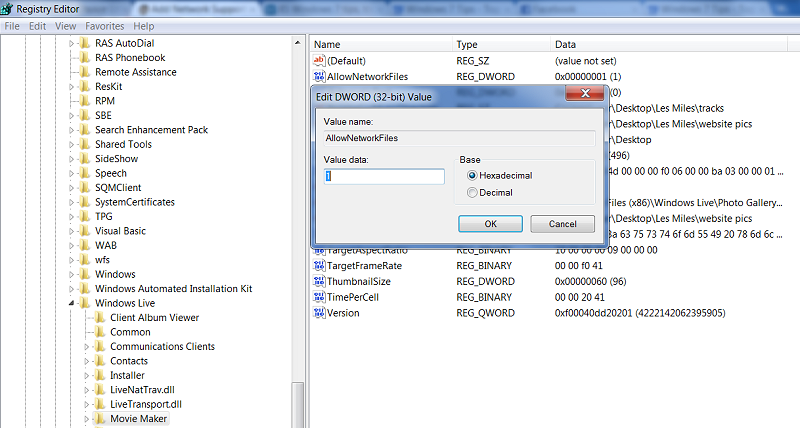 STICKY NOTES

Windows 7 provides a way for you to remind yourself about certain events coming up or anything you want a reminder about.
To access this built in function, you can either click your start button and search for sticky notes or find it under your accessories folder after you have clicked All Programs.

Once you have run the application, a default note will appear that has a yellow background. On the top left there is a plus sign to create new notes and on the top right there is a cross sign so you can delete notes.
The default font for every note is Segoe Print, but if you copy and paste from another application it will use the font style that you copied from. You can change the notes background colour by right clicking the note and choosing another colour from the list. The Sticky Notes app doesnt include any formatting tools, but it still accepts many common keyboard shortcuts for formatting text. For example if you highlight some text with your mouse and then hold control and press B, it will turn the text into bold that you highlighted. Basically it has most of the functionality as MS Word.

This is not a ground breaking feature but I'm sure some people will find it handy. I for one, am one of them.